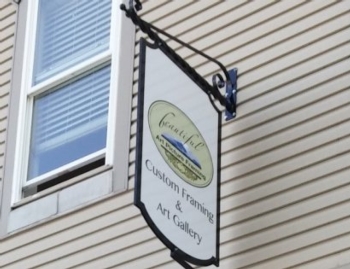 Beautiful Art Picture Framing, Inc. & Art Gallery is a family owned and operated Custom Picture Framing business that is located in Downtown Parker, Colorado. Parker is a charming town located between Denver and Colorado Springs with Pikes Peak as our mountain range backdrop.
We are Located at: 19501 E. Mainstreet, Suite 103, Parker, CO 80138 Between Kilwins Chocolate, Fudge & Ice Cream Shop & Black + Haus Tavern. Our door faces the Gazebo in O'Brien Park on Victorian Drive.

Beautiful Art Picture Framing, Inc. & Art Gallery works with top notch vendors locally and out-of-state to bring you, the client, the most variety and high quality products for your picture framing needs.

We were established in March of 2000. Please take the time to look through the Framing Gallery and view all the different custom frames created over the years.

The Owner, Kelly Benson has been in the framing business for over 22 years. Happy Anniversary March 20th 2022! Kelly says no project is too small, too large or too complicated to create. "What you Dream…..We can Create!" is our motto

We have BEAUTIFUL ARTWORK on the Walls from LOCAL and Out-of-State Artists with Connections to Colorado. Come on in and Enjoy these pieces and purchase for your friends, family or Yourself!
We look forward to working with you on your Picture Framing needs. Please stop by or Contact Us.