My Pet "Paw Print" Picture Frames
Smokey's "Bear Hug" Paw Print Frames were created after the loss of my sweet Blue Merle Sheltie dog Ladykin "Smokey" Bear.
After the passing of Smokey I knew I had to put together some picture frames for Paw Prints in remebrance of not only her but for the many furever friends across the world.
These frames have been made with love and kindness for the memory of our pets.
Our pets are our companions in life that give us unconditional love. It is our privilege to be able to put our memories of their kindness into a beautiful picture frame created just for you!
The p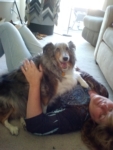 icture I have attached shows the real life Smokey giving me a "Bear Hug" with her paw. This was taken the last week of her life on earth. As I tell my boys she now has Angel Wings in Heaven because Smokey earned them with her love, protectiveness of her family and kindness to whomever crossed her path in life.
Please choose the Paw Print Frame that will help you celebrate your furever friends life!
Sending Smokey's "Bear Hug" Your Way! Order below.
(Please Note: My Pet "Paw Print" Picture Frame can be Custom Made just for You! - Please Call for more information. 303-521-6387)
Thank You!
Kelly Benson
Beautiful Art Picture Framing, Inc.